Welcome to my personal website!
"I have developed this website to share information of a more personal nature with family, friends, and colleagues. It is a continuous "work in progress" and will be updated frequently.
I hope you find it informative as well as entertaining.
Please feel free to contact me if there is something that you would like to see added."

Sincerely,
Dr. Francisco J. Collazo Beauchamp
---
About Frank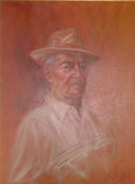 Born in 1931, Francisco J. Collazo grew up on his father's 120 acres of farmland in the mountains of Utuado, Puerto Rico.
He idolized his father, who is memorialized by a beautiful cliff park on his 500-acre farm on Grant Mountain near Huntsville, AL. In 1955, he married Carmen Ana Rivera.
They have three children, Frank L., Joe, and Rosana Collazo, and seven grandchildren